Organic Corn Variety Trials
Find this article at:
go.ncsu.edu/readext?274971
by Gerry Cohn, Southeast Pools Coordinator at Organic Vally-CROPP Cooperative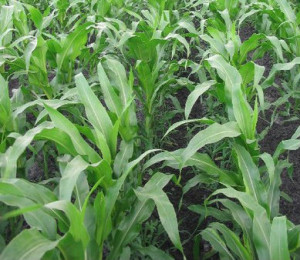 Organic Valley and North Carolina State University have joined forces to investigate the performance of organic corn varieties in the hot and humid southeast.
Between 1995 and 2008, organic corn acreage increased by 500% nationwide, and it continues to grow rapidly in response to supply shortages, premium prices, and increased consumer demand for organic meat, eggs, and dairy products. With rising prices and improvements in organic weed control and fertility, both grain and livestock producers are seeking practical information about the performance of different varieties under local conditions.
In 2012, Kentucky State University and Organic Valley collaborated to conduct organic corn variety trials on nine organic farms in Kentucky, Ohio, Indiana, and Pennsylvania(http://organic.kysu.edu/OrganicCornTrial2012.pdf). Strong national interest in the project has led 50 organic farmers and 5 university organic farms to volunteer to participate in similar trials in 2013, with 30 donated varieties from 7 different seed companies.
This project gives organic farmers much needed, reliable demonstrations of multiple varieties of corn yields in order to make decisions about which varieties are likely to improve the sustainability and profitability of their operations. Since none of these seed varieties were actually in our region, North Carolina farmers particularly value the information collected from these on-farm demonstrations because they provide opportunities to assess performance under localized real world conditions on working organic farms.
The Center for Environmental Farming Systems in Goldsboro and Reedy Fork Farm in Guilford County grew 25 varieties apiece in 2013. This project was highlighted at the Organic Grain Field Day at CEFS on July 30th. Keep an eye out for results in the next issue of this newsletter as you make your planting plans for 2014.